This site is about basic military values:
Honor, Integrity, and Duty.
Two officers have violated these basic military values and their crimes are presented on this web page.
Both these officers committed flagrant violations of the UCMJ and flaunted ethical misconduct. Click on the names below and find out the details.
---
Colonel Nichols -
His problems with a 'friendly fire' incident in Afghanistan are public record, his adultery with a SSgt's wife is not. He has retired but his legacy lives on.
Captain amErika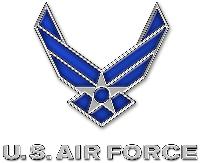 This story is about a selfish military careerist using any means to get promoted. This story also includes adultery with LtGen Michael V. Hayden, and his influence on her behalf while the Director of the National Security Agency . . . and the possibility of blackmail by Captain amErika to get what she wants. Click on her name to see more about the former Deputy Information Liaison for Doubtful Operations (DILDO) at Tyndall AFB and the 'slap on the wrist' that led her to civilian employment at NSA. Find out more about about NSA civilian Jack E. Griffith, and his affair with Captain amErika that started in 2001 that led to her divorce and civilian shift to NSA. (Check out the nude pics and movies of Captain amErika in action). Captain amErika finally married Griffith in October, 2007.

Proud to serve, not too proud to lie.
Notice: All images and movies of Erika Proctor in the Gallery/Movies sections of this website are in the public domain. Erika Proctor gave up all ownership rights to the images and movies in the divorce decree of Feb 3, 2003, FM103814, District Court of Travis County, Texas. The resulting owner, Kevin Furlong, put all these images and movies in the public domain. Erika Proctor has no legal standing to protest the exhibition of these images on this site or anywhere.
This is the Captain amErika described on MilitaryCorruption.com - Take a look at the documentation and pics that support the story.
---
This webmaster speaks for a group of Non-Commissioned Officers that are tired of seeing enlisted persons punished for offenses that are ignored if committed by an officer.
This lack of integrity is obvious at the highest levels. Senior leadership gave tacit approval and ignored the offenses committed by Captain amErika for years. This has not ended.
---